Circle Analytics Platform
The Circle Analytics Platform (CAP) takes comprehensive predictive modeling, artificial intelligence and grouping technology to a new level. Combined with Circle Wellness' proprietary methods and expertise, we can provide flexible and smart plan analyses, custom tools and reports, plan modeling and ROI, all with a keen eye on service and satisfaction. 
"If you're not keeping score then it's just practice."
CAP allows you to not only see and manage all your health plan and wellbeing costs monthly, you'll discover medical condition trends within your population and identify preventable costs by isolating emerging high-risk populations by condition.

CAP incorporates data from all health and wellbeing sources, including biometrics and labs, and combines that with Circle's expertise to help make sense of all the information and create smart recommendations. The end result is the ability to better design health and wellbeing plan models and increase proper utilization leading to claims costs being reduced, stop loss premiums being managed and better reserve budgeting.

Step up to an easy-to-use and content rich reporting platform, that with a foundation of current and historical data from a health plan, gives you an edge and being in control. Contact us to learn more.
---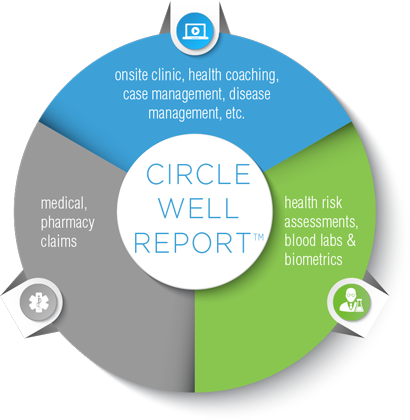 Circle Well Report
Instead of an integrated on-going platform, Circle also offers a proprietary analysis report that has been refined over the past 25 years called the Circle Well Report™.

The Circle Well Report is a robust and comprehensive report which helps clients see more clearly how all health claims (medical, pharmacy claims), health vendors (onsite clinic, case management, disease management etc.) and wellbeing related data (health risk assessments, participation, blood labs and biometrics) combine to form a better picture of health and wellbeing trends and provide clearer direction with annual health benefit decisions.

To learn more about how Circle can help you and your organization, contact us today.
---
Custom Analytics
• Third Party Analysis
• Clinic Engagement
• Health Risk Migration
• Drill Down Data Mining
• Wellness Validation
• Cost Avoidance
• Predictive Modeling
• Custom Reporting
• ROI Analysis
• ROI Smart Projections
• Ad hoc reporting
• Claims Grouping
• Custom Benchmarking
• Stop Loss reporting
• Trade Association plan analysis
• MEWA Plan Analysis